Stallions at Stud at Pearl Island

Amanda on Shuwaiman Al Bahrain and Terry on Al Reeh Janoob at the AHS Marathon 2008
finishing 4th and 6th
We do not breed a large number of foals per year and if we breed a pure Bahraini then it will be kept here at the stud or possibly returned to its homeland. Our breeding programme has been so exciting as we try the different combinations; Bahraini x Crabbet, Bahraini x Polish etc. When asked what I am trying to achieve my response is always the same, "At Pearl Island we breed good tempered horses that are tough, sound and good all rounders." A word that is often thrown at me and which I will never quite understand is "typey". Whatever this means it seems my horses don't fall into this category. But the horses of Bahrain, and therefore my horses, are of a "type" that fought battles with their masters, carried them for hundreds of miles soundly and in comfort, played gently with their master's children around the campsite and lay down by their side at night. That's the "type" of horse I want to breed and if you look at some of our photographs you will agree we are on the right track. Many of the vets at Endurance rides have examined our horses and only at the last 'glance' noticed they were handling a stallion. For this year we have decided to stand five of Pearl Island's stallions at stud and to offer A.I.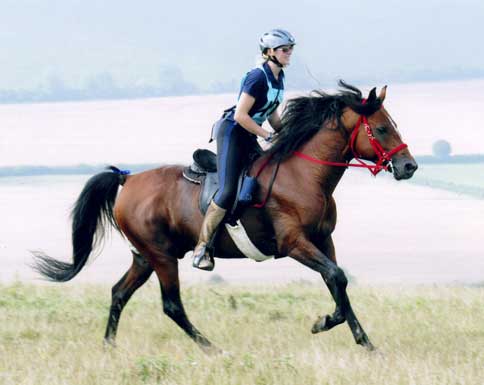 Shuwaiman Al Bahrain

Our Stallions are successful in Endurance, Dressage, Arabian Racing, Showing (at both local and International level) and Showjumping.