Goudah (EG) (Asil Straight Egyptian)

Born Egypt December 1996. 15.3 hh


By Gadallah (EG) out of Ramiah (EG) owned by His Royal Highness The Prince of Wales

Goudah (EG) (pronounced Jow-der) was born at El Zahraa in 1996 and bred by the EAO. A 'Straight Egyptian', Goudah is by Gadallah (EG) out of Ramiah (EG). He is a Kehailan Rodan (Rodania 1869) with a pedigree that will be of interest to the Crabbet enthusiast as well as breeders of Straight Egyptians.



Stallions Goudah and Al Bahrain wait quietly side by side to be called into the Stallion Parade, 2008

Goudah's temperament is kindness itself. During a recent visit by the 'Pony Club' I introduced Goudah to the children, he was very gentle and loved all the attention. He especially liked accepting their 'thank you' present of a box of organic apples and carrots!
Goudah accepting his gift


Goudah and the Pony Club members

His superb conformation, excellent paces and eye-catching movement made him a worthy and treasured gift from one Royal Prince to another. Goudah is a highly trained 'Dancing White Stallion'. His natural talent for dancing took him from his homeland of Egypt to the Kingdom of Saudi Arabia where he participated in ceremonial parades, following behind the line of drum horses he piaffed and pirouetted in time to the military band music. During a visit to Saudi Arabia by Their Royal Highnesses The Prince of Wales and The Duchess of Cornwall, Goudah was presented to The Prince of Wales by His Royal Highness Prince Al Waleed bin Talal bin Abdul Aziz Al Saud, a great patron of the Arabian Horse.
Goudah playing in the snow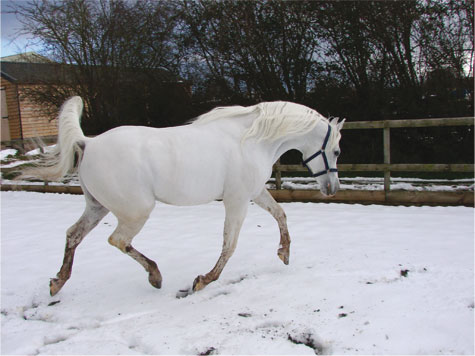 Stud Fees are £1200+VAT pure bred £800+VAT others/partbred.
SCID Clear (severe combined immunodeficiency)
CA Clear (cerebellar abiotrophy)
LFS Clear (Lavender Foal syndrome)