Al Reeh Janoob

See our breaking news page for Al Reeh Janoob's 2012 award
Red Dragon 2007, photograph by West End Photography
(AHSB Vol. XVIII)

Bay stallion born July 1994. 14.3 hh


By Chatanz out of Shuwaimeh Bint Warda. Bred by Jenny Lees and retained by the stud

Al Reeh Janoob is 50% Bahraini, his dam Shuwaimeh Bint Warda was imported from the Royal Stud of Bahrain. Janoob was the first foal born at Pearl Island Arabians and was so tiny when he was born that we had to look for him in the straw! In 1997, at the age of four, he was backed and the following summer began his racing career with the Arab Horse Society. We didn't expect much as we hadn't trained a race horse before but Janoob was a quick learner and very competitive, by the end of the season he'd won at Goodwood, a 5 furlong sprint. He then went on to race for a further five seasons, in which he had many victories. He raced 54 times, won 12 and was placed 35 times over distances from 5 furlongs to 1m 5 furlongs. Janoob is very strong, sound with a very laid back attitude, only waking up when there's work to be done!
Al Reeh Janoob winning the Deira Championship over 1 mile 5 furlongs at Lingfield
In 2003 Al Reeh Janoob retired from racing for a career in Endurance. During 2006 he qualified as an Advanced Endurance horse and this summer he completed his first 80km ER .....a bit further than his 5 furlong winning sprint at Goodwood! Janoob has also completed three AHS Marathons.†Placed all three times. The three Marathons took place on Larkhill racecourse with the finish line back at the racetrack. You can see Janoobs ears prick up when he sees the familiar white railings and even after 26 miles the extra effort kicks in as he stretches for post....he will always be a racehorse at heart!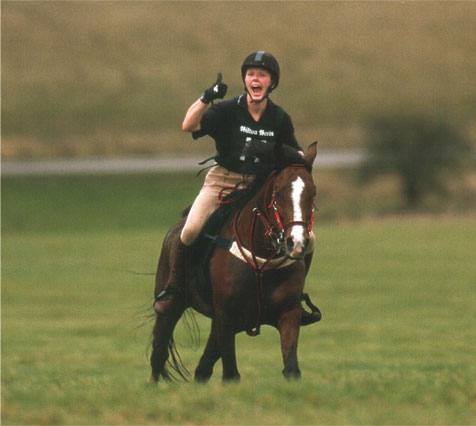 Despite being told to just hack round Al Reeh Janoob gets into the ribbons at the 2002 Marathon
Janoob has also won jumping competitions and dressage. Janoob's easy temperament means he enjoys life to the full what ever we ask him to do.
Al Reeh Janoob show jumping at the AHS Championship Show 2004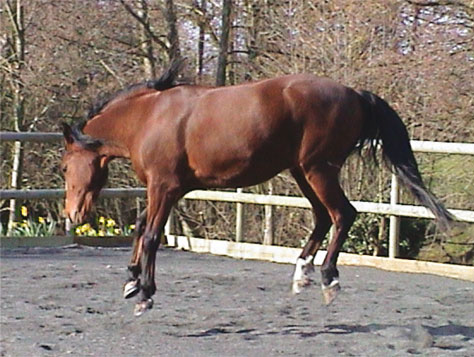 Janoob realises that with the spring sunshine his first wife of the season cannot be far away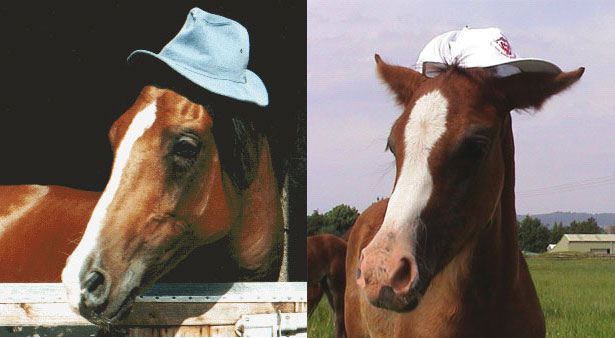 Al Reeh Janoobís daughter follows dads example and gets a trendy hat!


Al Reeh Janoob passing the winning post after 26 miles on Salisbury Plain (16th October) in the AHS Marathon. Photo taken by Eric Jones.

Stud Fees are £600+VAT (AI available) Purebred/TB £400+VAT others/partbred.

SCID Clear (severe combined immunodeficiency)
CA Clear (cerebellar abiotrophy)
LFS Clear (Lavender Foal syndrome)