Shuwaimeh Al Saghir
The smaller of twin colts born 23 April 2007


By Krayaan Dilmun out of Shuwaimeh Bint Warda. Bred by Jenny Lees.

Shuwaiman Al Saghir was a surprise to all of us when he arrived shortly after the birth of his much larger brother Shuwaiman Al Kebir. Known as "Little Harry" around the yard, he was a third of the size of his older brother George. Born about five minutes after George, Little Harry was very small and it was a tough fight and a round the clock job to get him through the first six weeks of life.

Shuwaiman Al Saghir (Harry) gets food and love
It worked! Harry gets to his feet!

Several times we thought we had lost the battle but of course Harry comes from desert "warhorse" stock so he was not going to give up without a fight.

Harry comes into the kitchen to find his milk

Due to the difference in size between the colts and Harry being in need of so much extra nursing we made a decision to hand rear Harry but to make sure he spent some time with his mother under supervision. Shuwaimeh knew she had two babies so we didn't want to stress her by taking him away altogether. Georges approaches to Harry were friendly and playful but because George was so much bigger Harry was always in danger of being knocked completely off his feet. Harry didn't help matters his idea of fun was to bite George and run away!
Down to the orchard with the twins, May 2007
Harry bites George...
...and makes a run for it!
Shuwaiman Al Saghir is the son of a Shuwaimeh mare so as tradition dictates he takes his dams name. "Shuwaiman" is the masculine of the Arabian horse family of "Shuwaimeh" and Al Saghir translates to "the small one". Self explanatory when you look at the photos of him next to his brother.
Harry has spent a lot of time in human company and we were aware that this might make him precocious and possibly even dangerous if we did not discipline him. We found discipling him difficult but luckily Margaret at The Old Forge Tack Shop, Wormbridge, Hereford had the answer, she came to our rescue with one of her rescues "Misty. Misty was perfect, she became Harry's companion, small enough to play with him but at approx 8 years of age and a mare, dominant enough to keep him in line and teach him some good horse manners. Even though Harry has far outgrown "Aunty Misty" she still keeps him under control. Misty was supposed to return to the rescue centre after she had raised Harry....BUT of course she isn't going back she is staying with us.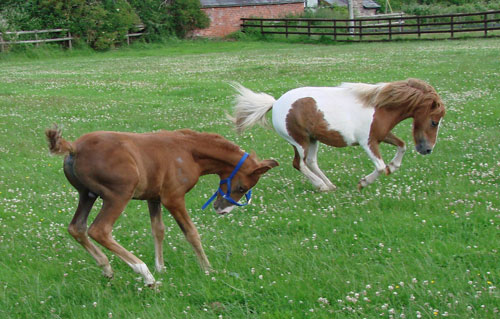 Misty and Harry, May 2007

Harry's young visitor cant quite reach, November 2007

But Harry has the solution
Luckily he has the kindly laid back Bahraini temperament of his sire and his dam. The whole family helped with the raising of Harry and as this included exercise as well as round the clock feeds volunteers were needed to "walk the foal". Tony took his turn and it seemed their energy levels were well matched.
Tony exercising Harry
Come on Dad!
Tony and Harry after exercise

Harry is growing into a friendly, lovable colt with a cheeky sense of humour. Dodson and Horrell kindly sponsored Harry with "milk vouchers" for their excellent Equilac mares milk replacer and on a recent PR photo shoot Harry joined in with slightly more enthusiasm than was required.
It is our intention to keep Harry and his brother George as stallions and ride them together in long distance endurance rides. Amanda has selected Harry as her mount and as can be seen in these photos she is monitoring his progress at regular intervals.

Harry in May 2007 and, now too big to lift, in October 2007
As well as supplying us with "Aunty Misty" Margaret at The Old Forge Tack shop has been responsible for Harry's "wardrobe" so a big "Thank You" to Margaret for all your advice and help.

Harry modelling his rugs...
Harrys page would not be complete without a thank you to our Vets Jinman and Partners of Hereford and Ewyas Harold. They never failed to be there when we needed them. Peter, Sara and Ralph.

Thanks also to Brendan Paterson for getting the Plasma to us that strengthened the chances of Harry and George's survival.
Harry with sara his favourite vet

Harry says thank you to Amanda
Jenny & Tony Lees, Mill Farm, Preston-on-Wye, Herefordshire, UK, HR2 9JU • Phone: 01981 500225
Home | The Desert Arabian | Stallions at Stud | Breaking News | Articles | Life at Mill Farm | Rescues | Links | Contact Us


Website by: YellaDog