Shuwaimeh Danah

Danah and 2007 colt foal Bonanza
AHS Vol XIX

Bay Mare born 31st January 1999. 15.3 hands


By Krayaan Dilmun out of Shuwaimeh Bint Warda. Bred by Mrs Jenny Lees and owned by Mrs Lees' son William May.

Shuwaimeh Danah was born here at Pearl Island Arabians on a very cold winterís night. Being thrust out of her warm mother into the frosty night she became very chilled and even though we rubbed her dry with towels etc. we couldn't get her warm..so we invented a foal incubator! We made a tent out of the towels and using a hairdryer we filled it with warm air. Danah lay there drying out nicely and when her coat was all fluffed up we found a nice warm foal rug for her.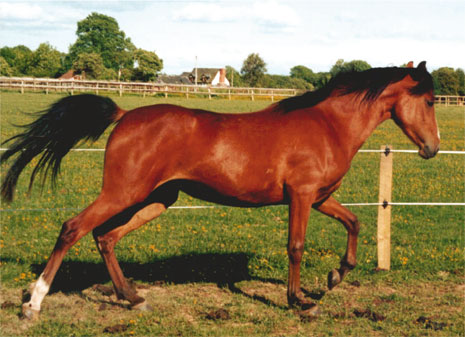 Shuwaimeh Danah as a yearling
Danah is first to find that Jenny has some Polo mints!

Danah is a grand strong mare and is full sister to Shuwaiman Al Bahrain, Shuwaiman Al Rais and half sister to Al reeh Janoob. As my son William did not have a horse of his own and had given so much willing help around the stud I offered him a choice of any horse on the place and he chose Danah...how sensible! Danah has produced two very correct foals, her son Bonanza will be competing this season, and her daughter is still growing.
Danah having a lesson in the school with Amanda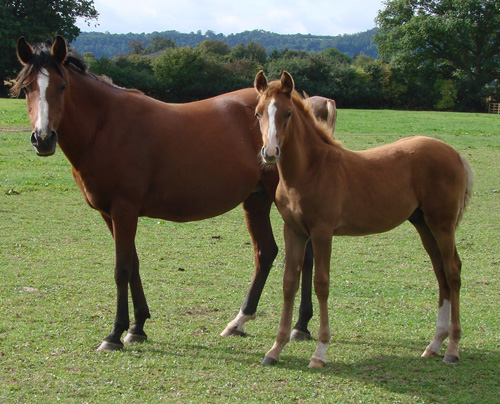 Danah with son Bonanza, 2007
Jenny & Tony Lees, Mill Farm, Preston-on-Wye, Herefordshire, UK, HR2 9JU • Phone: 01981 500225
Home | The Desert Arabian | Stallions at Stud | Breaking News | Articles | Life at Mill Farm | Rescues | Links | Contact Us


Website by: YellaDog